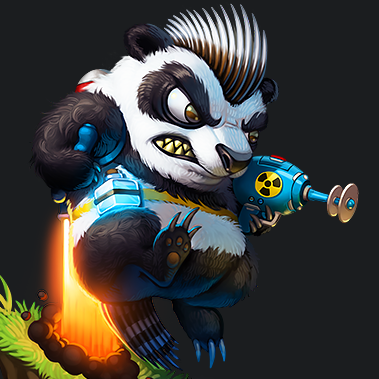 Hybrid Beasts Kickstarter!
Created 1 | Supported 1
1954814
Social Reach
Completed
Ended 12/12/2015
— Hybrid Beasts and
256

other supporters
Share | How It Works | Embed
Hybrid Beasts
is a unique cross-genre game where you
explore an open world
full of adventures, quests and secrets. During your travels, you compete with teams of never before seen creatures in
explosive and yet strategic turn-based battles
to conquer and defend the discovered regions of the world.
We are a small und yet relatively unknown indie game studio named BeastBits currently preparing for a
Kickstarter launch
. The Kickstarter will be live when this HeadTalker ends. Please
check out our trailers and screenshots
(below).
If you like the game please consider supporting us on HeadTalker and by following us on 
Twitter
/ 
Facebook
/
Youtube
/
Steam Community
/
Pinterest
/
Google Plus
- whichever you like most.
Your help is much appreciated!
We are also looking for beta testers! Testers will
get free access to the game
(early access and final version). If you are interested, join our
Steam Community Group
and let us know. Thank you!
Trailers
[embed]https://www.youtube.com/watch?v=VlXA5mcQl6M[/embed] [embed]https://www.youtube.com/watch?v=Xua7LhqwZHc[/embed]
Screenshots
[gallery size="medium" ids="30168,30169,30170,30171,30172,30173,30174,30175,30176,30177,30178,30179,30180,30181,30182,30183"]
Features and Concepts
Battles
Local multiplayer for 2-6 players, online multiplayer and single player modes
Many original and rarely seen weapons like: huge lasers, sticky mines, weaponized animals like flying fishes or armored armadillos, glue cannons, ice spells, shields, voodoo dolls, scuba gear, time travel, pet cemetery, Pandora's box, invisibility potion and many more...
More common weaponry like shotguns, rockets, grenades, rope and jetpack is also available.
Power-Ups like Double Damage or Super Jump impact gameplay.
Random events like asteroid impacts, earthquakes, blizzards or alien invasions make battles more exciting and balanced.
Many different and devastating endgame modes that go far beyond the typical rising water.
Most game elements can be customized and even be completely excluded from battles if players prefer to do so. For example, players can adjust the damage-dealing power and probability of occurrence for most weapons, items, power-ups, random events and endgame modes.
Exploration and Adventure
Regions drastically impact gameplay. For example, in a forest, you can dive into the clear water, whereas in colder regions, the water is frozen to a solid block of ice that can be walked on. Near the volcano, on the other hand, the water has been vaporized by molten lava that immediately kills any beast that touches it.
All landscapes and battlefields are handcrafted and designed with strategy and deceitful ambushes in mind. The possibility to randomly generate battlefields is additionally included.
The Kingdom is packed with quests to solve and mysteries to discover to ensure long term motivation. Complex storylines can be followed to unravel the secrets and lore of the land.
Currently over 60 battlefields can be discovered, conquered and defended on your way to be the supreme ruler of The Kingdom.
Hybrid Beasts has been developed to allow for extensions of all major game elements.
Expect new battlefields, random events, power-ups, endgame modes, quests and weapons to be added regularly.
Technical
Release for Steam (Game is already greenlit), GOG and standalone release
Hybrid Beasts is being developed using MonoGame for multi-platform support and cross-platform multiplayer.
Release is scheduled for PC (Q4, 2015), Linux and Mac OSX (Q2, 2016).
Achievements will be included.
DRM free
Thank you very much for your support!