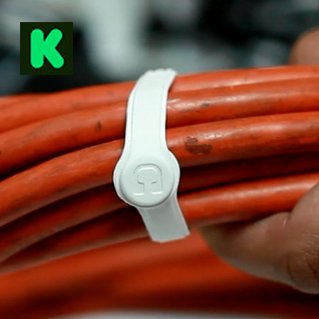 Cloop
Created 2 | Supported 32
1165925
Social Reach
Completed
Ended 09/14/2016
— Cloop and
107

other supporters
Share | How It Works | Embed
We started Cloop as an idea we had to remedy a common daily problem we encountered while traveling for business - messy cables that we had to sit and untangle before the plane even touched up off the ground. We realized we had a similar problem at home with cables and cords that took up far too much drawer space, chargers that we had to sidestep and constantly pick up off the floor. We launched a successful crowdfunding campaign in April 2015. We surpassed our goal by 180%, which helped us open our online store to reach the online market. It has been an amazing journey and we're committed to the evolution of this product! We received amazing feedback from our backers last year for our small and large Cloops. But we've heard your requests to develop an even larger Cloop for those even bigger cables you have around the house.
Cloop® is an unprecedented magnetic cable keeper, which serves as a cable management solution for people on the go. We are back with the new Cloop XL which is specifically designed to help you keep your medium to large sized cables neat and tangle free. Patent Pending.
Cloop® keep your cables quickly organized and ready to go!
Keep your cables tidy to easily access them!

Always have your cables ready to use.

Simply snap to keep your cables untangled and organized!

No more untangling knots!

No more messy cables!

No more cables going to that dark place behind your desk!
LOOK FAMILIAR 
NOW IMAGINE THIS
Cloop XL
lets you stay organized so you can quickly retrieve the cable you need. We all have busy lives so don't waste it untangling.
Cloop®
is easy, convenient and fast! Save time, get organized and stay on the go!
Cloop XL is the perfect organization companion for your bathroom accessories!
Cloop XL tackles those Audio and Power Cords
We have carefully designed Cloop XL to offer you more capabilities to tackle your larger cables. We have given Cloop XL a more powerful closure mechanism with stronger Neodymium magnets. This, together with a more elastic silicone, will allow Cloop XL to fit many cable profiles. The silicone material makes Cloop safe, durable and very resistant to frequent use. Also, the silicone will not stain your cables.
The magnets are embedded to avoid scratching your other accessories and to prevent them from popping out. Nonetheless, this doesn't prevent you from attaching Cloop to your bag or anchoring it to a metallic surface. The cable passage keeps your Cloop attached at all times so you don't have to worry about losing it. It also facilitates easier cable wrapping.
Do you ever find yourself looking for your cellphone cables behind your desk or nightstand?
Always side-stepping over cords or constantly picking them up off the floor?
With the Cloop Base you can easily attach your Cloop and cables to the side of your desk/table so you always have them within reach!
WE NEED YOUR HELP:
We designed this product with you in mind and we need your help to get the word out that it exists. The project is launching at the beginning of September 2016, and we can't do it without you! If you want this to happen, please share it with others.
If you're interested in doing a write-up about Cloop, you can contact us at cloopteam@cloopband.com