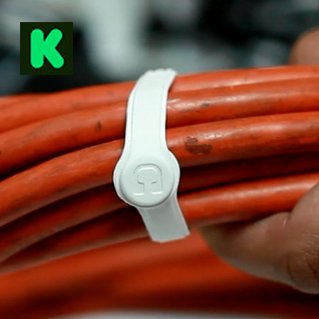 Cloop
Created 2 | Supported 32
2090463
Social Reach
Completed
Ended 04/24/2015
— Cloop and
105

other supporters
Share | How It Works | Embed
We started Cloop as an idea to remedy a common daily problem we encountered while traveling for business- messy cables that we had to sit and untangle before the plane even touched up off the ground.
Let's face it:
A cables natural state is... "tangled".
We realized we had a similar problem at home with cables and cords that took up far too much drawer space, chargers that we had to sidestep and constantly pick up off the floor.
My Brother and I began drawing up the design elements for a product that would serve to resolve these problems. We sent out prototype after prototype until Cloop finally evolved into what it is today- the perfect solution for cable management. 
We built Cloop to help keep busy people organized and keep cables and cords, such as, headphones and smartphone chargers, neat and tangle free.
Twenty years ago, the invention of Cloop wouldn't have been possible. But, with today's new tech and our patent-pending design, we've developed the best solution to keep cords untangled and damage-free. 
OUR PROBLEM: FRUSTRATING + TIME BURNER
OUR SOLUTION: SPACE SAVER + TIME SAVER
Eliminate Cord Clutter Cloop can be used to create extra space wherever you store your LAN and USB cables. If you've ever had to go through untangling messy cables, Cloop is for you.
Makes Traveling Easier If you travel, Cloop keeps your cables from getting tangled with other items in your bag and helps reserve extra space to make room for all your traveling essentials.
Organize Your Living Area Declutter your living space, and use Cloop to keep your smartphone chargers and cables off the floor, and out of reach of children and pets.
Organize Your Workspace Keep your workspace organized and your extra cables, cords and wires fastened with Cloop to increase productivity.
Prevent Entanglement The average person has their mobile phone within reach 91% of the day. Put Cloop in place, and it becomes a companion device to make usability an transportation much more efficient.
Utilize More Drawer Space Increase your storage space with Cloop by keeping your cables organized. You'll never have to deal with a drawer full of tangled cables again.
Exercise Without Headphone Malfunctions Cloop can attach to your clothes when running, jogging or working out to prevent headphones from falling to the ground while in motion.
Easy Cable Identification Mix and match using different Cloop colors so you can keep track of what your cables and cords are being used for.
Tidy Up Family Charging Stations If everyone in your family charges their smartphone or tablet in the same place, you'll find immense benefit in using Cloop to stay on top of extra chargers that aren't in use.
Prevent Cable Breakage Tying a cable around itself to keep it organized actually causes severe damage to the inside of the cable over a short period of time. Protect your cables, with Cloop.
Save Yourself Tons of Time Your time is precious...so imagine spending a full work week untangling your cables every 5 years. Thats the estimated amount of time you're currently spending fussing with messy cords, cables and chargers.
Suggested Use For Small Cloop: 
Smartphone Charger
Headphones
Earbuds
iPad & Tablet Charger
iPod Charger
Kindle Charger
Video Game Cords
 Suggested Use For Large Cloop:
Guitar Cables
Laptop Charger
Hair Dryer, Curling Irons, Straightening Iron Cord
HDMI Cable
Camera Cables & Accessories
LAN, USB, Ethernet Cables
Cloop is made from an elastic silicone material that provides it with the flexibility to fit around Small to Large sized cables.
We designed Cloop with a neodymium magnet located at both ends, which makes Cloop easy to snap shut and easy to open.
We chose to enclose the magnetic ends for one simple reason, it protects them from the environment, and protects your belongings from getting scratched. In doing so, the magnets remain strong, without diminishing magnetic closure strength.
Cloop won't slide off your cables and cords, in fact, it actually works as a companion device. Cloop stays attached to your cord, even when not in direct use, so you don't have to worry about losing it.
We designed Cloop with optimal simplicity and without compromising function.
Our patent-pending product gives Cloop the flexibility to wrap around small to medium sized cables and the the strength to securely hold them together.
Cloop comes in three vibrant colors: Black, White and Red.
WE NEED YOUR HELP:
We designed this product with you in mind ,and we need your help to get the word out that it exists.
The project is launching on April 24, 2015, and we can't do it without you! If you want this to happen, please share it with others.
If you're interested in doing a write-up about Cloop, contact erin@kickstartupmarketing.com