MeetBash-FUN way2meet friends!
Created 1 | Supported 0
954851
Social Reach
Completed
Ended 12/15/2016
— Himanshu Chandra and
12

other supporters
Share | How It Works | Embed
Do you have a friend who always keeps you waiting when you are supposed to meet?
Who never picks up the phone when you want to know where he is?
MeetBash is a mobile app that lets you create meetings with anyone in your phone's contact list - no need to depend on emails anymore.
You get:
1.
Automatic Reminders
2.
Track + Navigate user's GPS location during Meet's time span
3.
In-built Chat
4.
Avoid that awkwardness of leaving chat groups! Unless participants actively keep them alive, groups vanish in a week
Download now: 
play.google.com/store/apps/details?id=com.meetbashindia.meetbash
How is MeetBash helpful to you?
The next time you plan to meet with your friends in a restaurant for a birthday party, use MeetBash and rid yourself of the annoyance of having to call everyone up to remind about it and keep asking everyone -
"You do remember we need to meet at 9, right?"
"How long before you start from your place?"
"Are you here yet?"
"Where exactly are you stuck? Let me explain the route to the place."
The essence of MeetBash is it's simplicity.
How many of your friends are saved in your phone's contact list along with their email ids? Very few I guess. And who would drop a formal calendar meeting request on email for a fun gathering anyway?
MeetBash makes it easy to organize such stuff. Just select your friends from your contact list and send them a MeetBash 
'Meet'
 request. Even if your friends do not have the app installed, they get a text (SMS) from our side which says that you are inviting them for an event. Once they are on the app, they can -
Chat
RSVP (Yes/No/Maybe)
Track each other's GPS location (totally configurable, you can switch it off if you want to)
Get automated reminders
Can we see it in action?
YES!
MeetBash was launched a few weeks back for Android phones. It garnered 1000+ downloads with almost negligible advertising or marketing so far.
You can download it absolutely free of cost for a 15-day trial from Google Play Store: 
play.google.com/store/apps/details?id=com.meetbashindia.meetbash
We promise you will love it!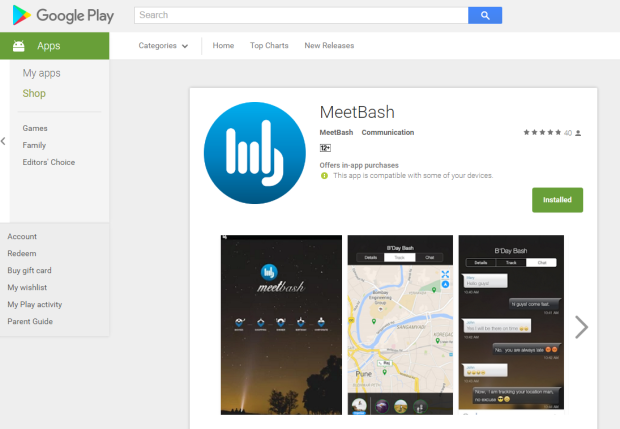 What next?
We have bootstrapped to develop the app the last 8 months and to launch it. Infrastructure, salaries, limited advertising are the costs we have borne. Our IndieGoGo crowdsourcing campaign is live now. With the funds we raise there, we aim to-
Bring the app to iOS platform as well
Hire developers & designers
Bear infrastructure cost, rent, salary
Improve upon & enhance our current offerings
Advertise
Offer rewards, referral bonuses to loyal consumers
Still deciding? Try this then..
Got an Android phone? Just try it out once for FREE and use it for a few weeks. Tell your friends about it, see if they won't like it as much as you do!

You would have our deepest gratitude :)